Registration for the 2023 Golf Tournament has CLOSED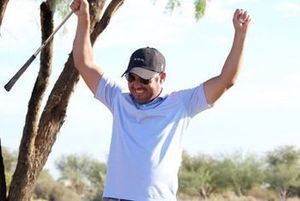 Tremendous thanks to our sponsors, players, and the Chandler Unified School District community for supporting this incredible event. Despite the heat, we had a record number of players involved in the tournament! 
Details on the total amount raised and the winners of the various side competitions will be shared shortly. Be sure to follow us on social media for updates on how these funds will be used to fuel excellence in education across CUSD! 
22nd Annual Chandler Education Foundation Golf Tournament & Fundraiser
Friday, September 8, 2023

When you golf in our annual golf tournament, you become family. We have fun, connect with friends, and make an important investment in education and our future. Because of you, we can provide countless scholarships, grants, and support to students and teachers across Chandler Unified School District.  Your support helps send kids to college, infuses our classrooms with innovative learning opportunities, and gives back to teachers by assisting with the expense of furthering their education.
---
Sponsor & Make an Even Bigger Difference
We promise your partnership will result in more than a golf clap! By sponsoring, you allow us to invest more into education and that's a win for everyone. Even more, your business makes this tournament memorable, receives recognition during the event and your logo on our promotional materials. Best of all, there's the satisfaction knowing you've had an impact on countless students and teachers across CUSD.
We'd love to talk! Contact Jen Hewitt at hewitt.jennifer@cusd80.com or call us at (480) 224.3031.
Not able to sponsor? Consider donating an item to our raffle.  Thank you for helping us put more money into the classroom!
---
Thank You to Our Sponsors!
---
Questions? Please email us at ChandlerEdFoundation@cusd80.com
---
Stay after you play!