Program Summary
In addition to classroom enrichment, Chandler Education Foundation is committed to investing in our future by providing CUSD high school students with experiences that directly engage them in strengthening our community. The IMPACT Chandler Scholars program requires a student's formal commitment in their freshman year:
Students commit to:
maintain a 3.4 or greater GPA

cumulative attendance at 95% or greater 

submit at least 35 hours of community service* before the first day of their junior year

submit at least 100 hours of community service* before April 1st of their senior year
Students who fulfill all program requirements are considered IMPACT Scholars and receive additional honors at graduation including letters of recommendation and an honor cord to wear with their cap and gown. 
IMPACT Chandler Scholars are then considered eligible to apply for an IMPACT Scholarship.  In years past, this scholarship has been approximately $1,000 per award and is based upon available funding each year. 
In 2018, the Foundation awarded over $70,000 in IMPACT Scholarships.
---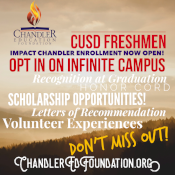 18/19 freshmen: Infinite Campus enrollment extended through May 24, 2019.
Enrollment Information
Enroll in the student's Infinite Campus Portal using the student sign on information.  Parent logon information will not provide access to the enrollment form:  Access the Infinite Campus Portal Here
---
*IMPACT Chandler Scholars program participants are asked to volunteer in their community.  We encourage students to volunteer for a variety of organizations.  Volunteer hours will not be credited for service provided at a faith-based organization where volunteer time does not benefit the broader community. Please contact us further clarification is needed.
2019 Graduating Seniors
Congratulations on your upcoming graduation! 
Service hours due: April 1, 2019
Scholarship applications due: April 5, 2019 
Applications are read during the month of April; students will be notified of results by email no later than April 26, 2019.  
---
Helpful Hints
Volunteering for Feed My Starving Children (FMSC)? The half-sheet paper provided serves as a signature. You will not receive an email. Leave the email portion blank if submitting through Infinite Campus. All documents should be saved and available upon request. 
Travel time is not included in volunteer hours.
When submitting through Infinite Campus (9th Grade 18-19 & expanded to all grades in 19-20), PLEASE consolidate and enter only once for the same location.  You may select a date range and include multiple days. 
---
Volunteer Opportunities Listed Below
---
IMPACT Chandler Participants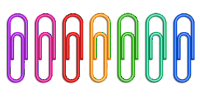 Please use this link to download our current Community Service Form.  Current freshmen do not upload forms but we ask all students to obtain verifiable documentation of community service, saved in a portfolio for use when applying for scholarships. 
---
18/19 Freshmen
Freshmen are asked to submit service hours through Infinite Campus. This option will allow us to efficiently log your hours. Use the form above to gather your supervisor's name and email address when completing volunteer hours. Thank you!
---
Community Service Activity forms are now accepted by email at chandleredfoundation@cusd80.com or can be uploaded below.