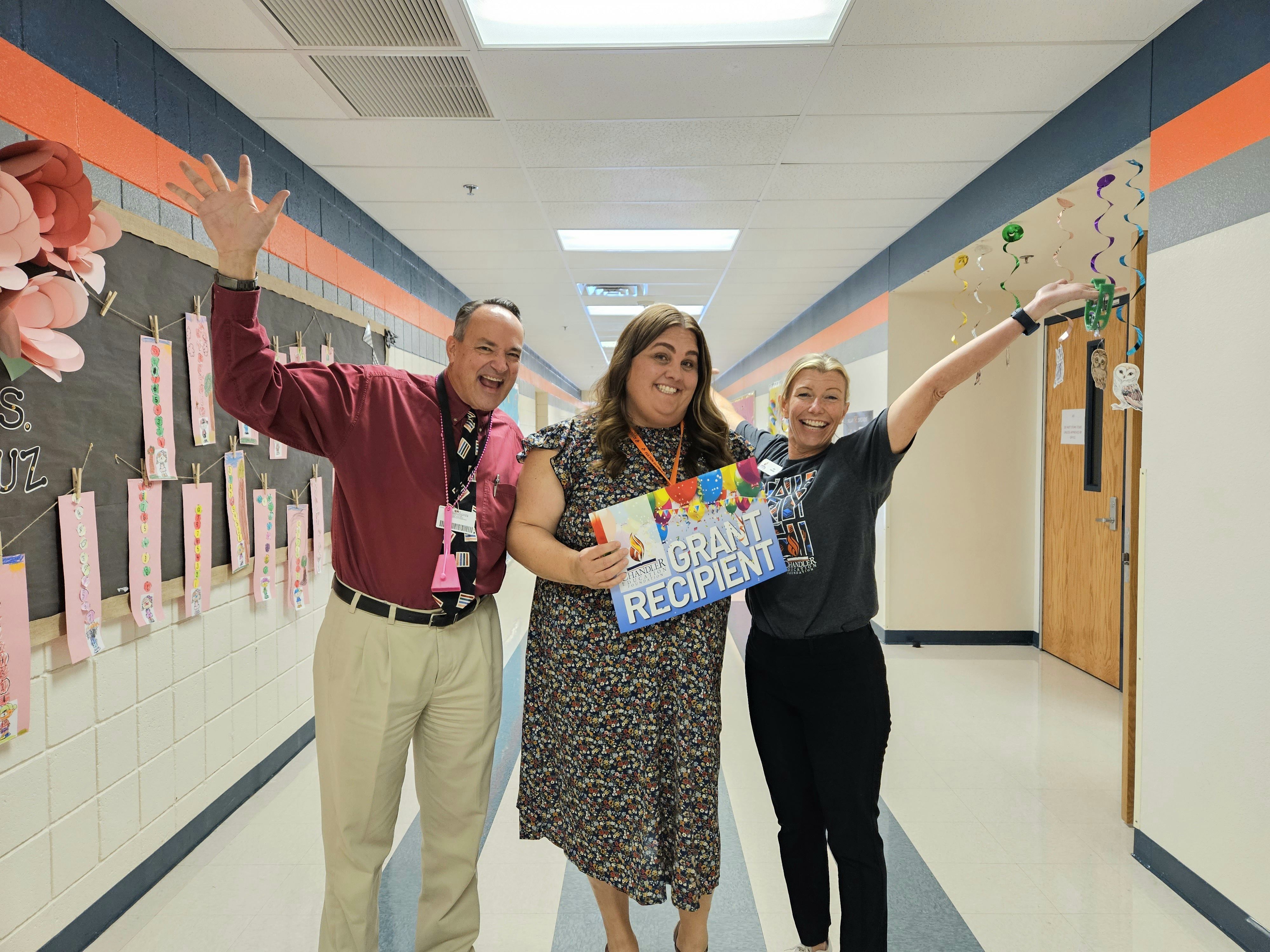 Out of 150 grant applications submitted by teachers across the district, 116 were selected by a panel of CEF Board members and district leaders, with a focus on enhancing access, innovation, and excellence in CUSD classrooms.

Chandler, AZ – November 8, 2023 - The Chandler Education Foundation (CEF), a respected 501(3)(C) nonprofit organization, is thrilled to announce the distribution of $75,000 in enrichment grants to benefit the Chandler Unified School District (CUSD). These grants, awarded by the CEF's 'Woo Hoo Patrol,' will enhance access, innovation, and excellence in CUSD classrooms.
The CEF's 'Cash For Classrooms' fundraiser, which garners community support for targeted school and teacher programs, is held annually. Teachers and administrators throughout the district were invited to apply for enrichment grants of up to $1,500, targeting specific programs or resources designed to enrich the learning experience. A panel comprising CEF Board members and district leaders meticulously reviewed 150 grant applications, selecting 116 projects that demonstrated exceptional promise.
This academic year, CUSD saw a remarkable number of applications, totaling over 150 submissions, showcasing the district's rich diversity and the dedication of its educators. These applications covered a broad spectrum, from robotics equipment to sensory resources for special education classrooms. Jen Hewitt, Executive Director of the Chandler Education Foundation, praised the passion and innovation of CUSD educators, noting that "Our teachers pour the care they have for their students into developing innovative and engaging opportunities that are well-researched and connected to strategic district initiatives. It is always inspiring to read through applications to see the amazing things our teachers do to spark learning. We are so grateful to our community donors, sponsors, and partners who make these grants possible."
In total, $75,019.82 in grant funding has been distributed across 38 schools, benefiting 116 grant recipients. These educators range from first-year teachers who are building up their classroom resources to seasoned veterans who have repeatedly demonstrated the impact of CEF grants. The programs supported by these grants include tech-enabled resources to enhance language proficiency, social communication games to foster collaboration, innovation lab drones, tools for blended learning to bolster math skills, equipment for student-designed solar cars, a cross-cultural STEAM event promoting careers in science and technology, mentorship programs for musicians, flexible spaces to address sensory needs, and even the development of a community garden.
Superintendent of the Chandler Unified School District, Frank Narducci, expressed gratitude for the invaluable partnership with the Chandler Education Foundation. He highlighted the role of the CEF in facilitating teacher-initiated innovation and its impact on student learning outcomes, contributing significantly to the district's reputation as a family choice. He stated, "Chandler Unified is a premier district of choice for families in large part due to the valuable contributions of strategic partners like the Chandler Education Foundation staff and Board of Directors."
Over the past two weeks, the highly anticipated CEF 'Woo Hoo Patrol' has been traversing corridors and classrooms, celebrating teachers' dedication and commitment to student learning. As the grant-funded programs are implemented, the Chandler Education Foundation will share stories of their impact on students and the innovative ways they are transforming the learning experience.
About the Chandler Education Foundation:
The Chandler Education Foundation (CEF) is a 501(c)(3) nonprofit organization founded in 1986. Its mission is to ignite the power of community fundraising to fuel access, innovation, and excellence within the Chandler Unified School District (CUSD). Through events, campaigns, and partnerships, CEF provides financial support to promote equitable access to learning and enrichment opportunities, stimulate classroom innovation, and ensure academic excellence for CUSD.
For more information, please contact: info@chandleredfoundation.org