"Action expresses priorities." ~ Mahatma Gandhi
Officers
---
Board Members
Empowered Legacy Planning

Chandler Gilbert Community College and Mesa Community Colleges

Principal
CUSD- Casteel High School
---
Foundation Team
CUSD/CEF Liaison
Executive Director of Elementary Education

Communications Coordinator

Marketing & Events Director
---
Foundation Board Blog
The Foundation owes much of its success to our volunteer board. We look forward to helping you get to know them here.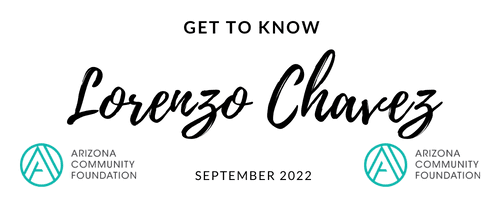 Lorenzo Chavez - Executive Director, Education and Scholarships
Chandler Education Foundation board member Lorenzo Chavez cheerfully navigates from meeting to meeting throughout the day. Yet, through it all, Lorenzo listens as if he has nothing else on his mind, always considering how to link people and support to those who need it most. His knack for connecting people with resources makes him a perfect fit for his position at Arizona Community Foundation, an organization that oversees over 1,000 scholarships throughout the state, distributing over $4.5 million across Arizona last year. In addition, the Foundation plays a non-partisan role in understanding policies within education, connecting philanthropic giving to where funds are needed.
While there are numerous people Lorenzo credits with being influential, he carries the words his colleague Elizabeth Arnot-Hopffer shared with him:
"Tireless optimism."
It is the driving force that motivates Lorenzo to get up each day. Words he has carried with him ever since. When asked what drew him to work with education and philanthropy, Lorenzo shared, "I am one of the lucky few that was able to go to college and navigate barriers. Now I can influence service and remove barriers for others." His own experience prepared him well.
The power of teachers to motivate and change life trajectories for students was a personal lesson Lorenzo learned in high school from his English teacher, Dr. James Malmgren. A Vietnam vet and prior city attorney, Dr. Malmgren spent the duration of his life teaching high school English in Tucson. Lorenzo remembers, "He was instrumental in helping me to get to college. His tough but fair approach taught me that when I didn't get something right the first time, I must persist. This helped me in school but was also a good life lesson."
Lorenzo's ability to steward philanthropy through an education lens comes from the culmination of personal experience and work with students and families in secondary and post-secondary settings. Lorenzo's early work focused on increasing college preparedness for first-generation students with high financial needs. Before moving to Phoenix to work as a Program Director with Arizona State University, he provided support and direction for the University of Arizona, Pima Community College, and the Tucson Unified School District. Many of the families Lorenzo and his team worked with were monolingual, and few parents had college experience. Lorenzo was responsible for student and family engagement, focusing on navigating the shift into post-secondary education. In this role and his subsequent work as the Associate Vice President of Community Outreach and Partnerships, Lorenzo shifted to an even greater emphasis on the systems-level role in creating positive change.
Lorenzo has a keen understanding of how resource allocation can affect positive change. Chandler Education Foundation is grateful for his knowledge, experience, and passion. When asked, Lorenzo commented, "My first experience with philanthropic giving was when I began volunteering for the CEF board in 2019." He believes in the possibility of profoundly impacting individuals and communities through the generosity of others. While Lorenzo acknowledges the challenges faced in our community, he feels strongly that we "can turn the corner" and make education a top priority. After all, he has tireless optimism and a commitment to making a difference.